APK Manifest viewer
View APK manifest file is similar to viewing an XML file, except manifest, as well as many other resources APK, has the compressed structure of chunks, and therefore, to obtain a readable content, the viewing must be based on decoding with resource table.

Since the APK file is known, and the known location of the resource table (resources.arsc), the whole decoding process takes place "on the fly".
MENU COMMANDS
Since viewing APK manifest is similar to viewing an XML file, the available commands of pop-up menu are similar to commands for files.
● View – set file viewer attributes.

● Reopen – reopen file according to its type.

● View dump – open file as hex dump.

● View text – open file as text.

● View image – open file as image.

● View chunks – open file as chunks.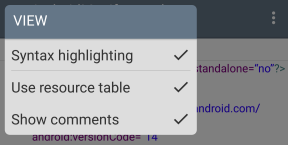 When you view the manifest, as when viewing an XML file, use the following viewing attributes:
● Syntax highlighting – enables or disables the syntax highlighting to provide better readability.

● Use resources – establishes the need to use resource table in the decoding stage. In the case of usage, references will be presented in the form of "@string/app_name" instead of "@7F060036".

● Show comments – indicates the need for output comments of internal module in case of any problems or inaccuracies.